THE SMALL HOUSE WITH BIG EXPECTATIONS
This little Scandinavian house is an oasis of peace in the middle of nature!
This is it: Your children have left the family nest! Whether you're retired or in the process of retiring, you probably have a ton of projects planned in the coming years. You are now free to travel, enjoy an early morning coffee in the countryside or cycle all afternoon. The current state of the real estate market is, as we all know, fraught with bidding wars and difficult to navigate at the present time.
If you want to downsize and acquire a home suited to your lifestyle, why not try the prefab housing market? Our brand new Altä Mini model could well be your dream home.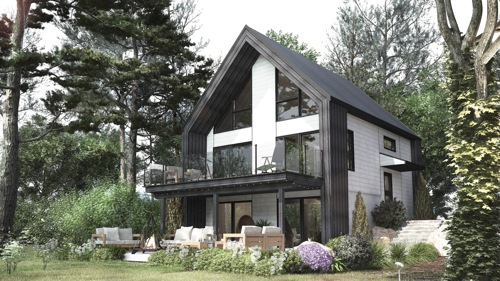 AN EASY WAY TO SET YOUR DREAM HOUSE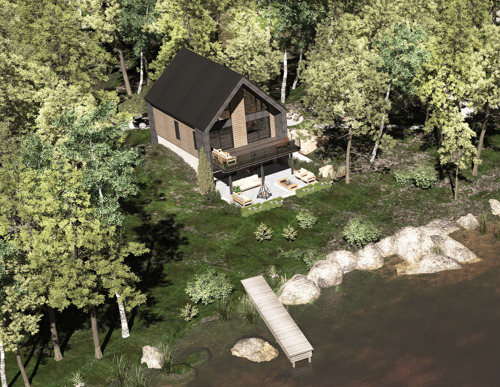 Prefabricated homes, also known as modular homes, offer you a completely new and customizable home that meets all industry - and, of course, all provincial - quality and safety standards.
Since 1989, we have been working to create durable, superior quality home models. We are also accredited with Garantie de construction résidentielle (GCR) and have an AA rating, the highest distinction in the new residential construction industry!
With teleworking, you may be thinking about moving away from the city or suburbs to get closer to nature. By opting for a prefabricated house, you can choose where you want it to be set. This is perfect for those who dream of settling in the countryside or simply away from the major centres!
THE ALTÄ MINI MODEL: THE SMALL HOUSE WITH BIG EXPECTATIONS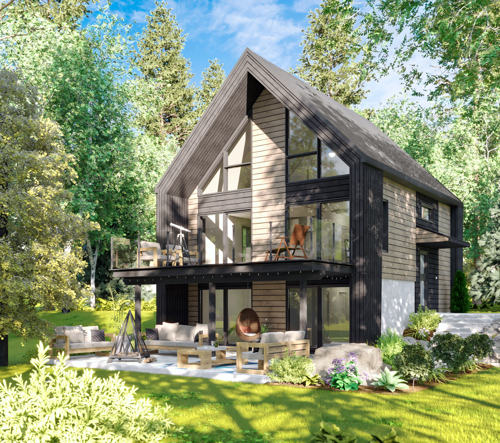 The demand for smaller, but optimized, homes is growing. Scandinavian home models often find themselves at the top of the list when it comes to choosing a minimalist and harmonious home.
With a 52% glass façade, our new Altä Mini model is an ideal home for those who want abundant natural lighting featuring a sleek and modern design.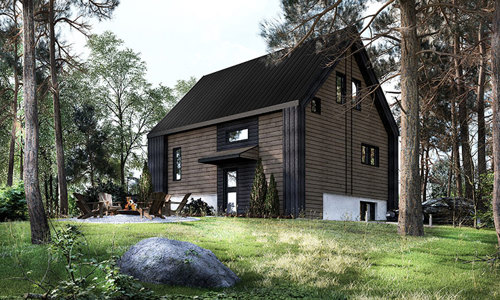 From the outside, Altä Mini is reminiscent of the "A-Frame" type houses that blend into the dense forest. Resolutely Nordic, the residence rises up through the vegetation, nestling in the shade of hardwood trees and evergreens.
A balcony surrounded by glass – which is not included in the construction, but easy to add to the end result – overlooks the terrace adjacent to the ground floor.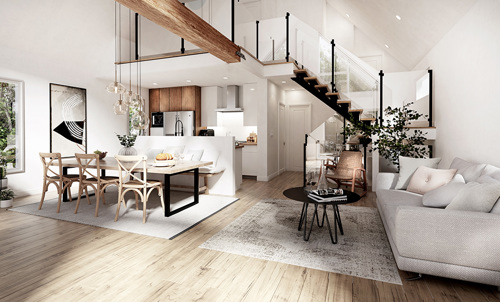 Inside, the 979-square-foot (24' x 26') space is used to its full potential.
The rooms are well thought out, both intimate and airy, and allow you to easily create a healthy and comfortable atmosphere.
Here are the dimensions for each room:
GROUND FLOOR
Bedroom 1: 11'-0" x 9'-6"
Kitchen/Dining Room: 11'-3" x 14'-10"
Living room: 11'-9" x 12'-0"
MEZZANINE
Bedroom 2: 13'-6" x 9'-6"
Mezzanine: 10'-0" x 7'-7"
Several choices of materials and multifunctional layouts are at your fingertips: you will have the opportunity to work with our team of interior designers to customize your construction plan. It is also possible to arrange the area according to your needs.
With a smaller nest, but up to date, comes the promise of day-to-day living where happiness is king!
Experience this lifestyle by purchasing the brand new Altä Mini model, signed by Maisons usinées Côté.
CLICK HERE TO DISCOVER THE VIDEO OF THIS MODEL!