GCR Tour
Once again this year, we received the highest distinction in the new residential construction industry, by the GCR, the AA rating!
Did you know that, by law, a new home builder in Quebec must be certified by the GCR?
The GCR (Residential Construction Warranty) offers buyers various tools to help them make an informed choice in this matter!
For examples :
What is the Guarantee Plan for New Residential Buildings?
The Guarantee Plan for New Residential Buildings has been mandatory since 1999. It ensures that contractors properly fulfill all legal and contractual obligations set out in the Regulation respecting the guarantee plan for new residential buildings. Anyone who buys a new home covered by this plan automatically benefits from it. The contractor must provide a signed copy detailing coverage, claims procedures and recourse options.
That's why it's important to check the developer's and the builder's track record and GCR score to make sure their projects are of the highest quality. If a builder has an "A" rating, it means that no defects have been found in their work. Doing this and taking the time to fully understand the terms of purchase will increase the chances that your real estate project will be completed under the best possible conditions.
Here is the photo of Virginie Côté, who had the pleasure of receiving this accreditation during the event "Tournée GCR 2022" :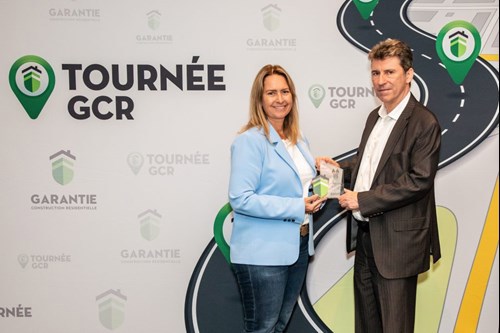 To find out more, visit their Facebook page!